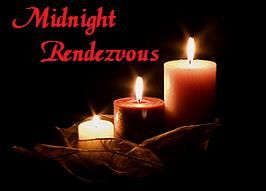 (This is a Midnight Rendezvous feature. To learn more about this feature, please see my "Interactive" page)
Today on the blog, I'm happy to be participating in the Her Forgotten Betrayal virtual blog tour as one of the stops. I was provided a copy from Entangled Publishing in exchange for an honest review.
Her Forgotten Betrayal is from the wonderful new Dead Sexy imprint of Entangled. If you click the image below, you'll be directed to the Entangled homepage. Also, I'd like to note that one lucky commenter will be given a free download of the book--so if you're interested, comment, you may get lucky! :)
See Her Forgotten Betrayal at Goodreads
Anna DeStefano's Website
Add Anna on Twitter
Remembering will save her life. But will the truth destroy their love forever?
His mission orders: Infiltrate an FBI suspect's mountain retreat and obtain evidence of her guilt Her doctor's orders: Recuperate from a vicious shooting, and end her waking nightmares?
What he doesn't know: Is she guilty, innocent, or crazy? Can she ever forgive his past betrayal? What she doesn't know: Anything about herself or her life before the attack...or if she can even trust the man with whom she is falling in love.
Her Forgotten Betrayal immediately starts with the action and that's what I like. The story pulls you right in and it's entertaining from the beginning with page-turning scenes and an interesting idea. This wasn't cheesy romance, or even something I'd consider "too naughty". Just enough spice to give the book some oomph. What I liked most was following Shaw along on her recovery to gaining her memories back. What would you do if you ever experienced some type of accident that left you with amnesia? I think it'd be awful. Memories can be so important to us, and I think after reading this, I realized just how much. This makes you think about life and possible second chances.
Cole Marinos sounds like the typical knight-in-shining-armor that women adore. I'd probably be one of them. He was a sweetheart to Shaw. Protective and loyal. I liked how even after years of not seeing her, he was quick to drop his own past problems to help her out in any way necessary. And even through some of her whiney, weak, or crazy moments, he remained completely patient.
The only thing/minor nitpick I may have on this read personally would be that while yes, there's a major twist at the end, I found it a bit predictable. It could have easily just been me. I think oftentimes I'm really a good guesser when it comes to mysteries/crimes, so I'd already guessed about halfway through on what the twist was. Ha. Otherwise, I found it really an entertaining read that I couldn't put down. The action was there. The romance was strong. The scenery was lovely.
If you like a bit of spice, mystery, rekindled romance, and drama: this is for you.
4 stars!

Ms. DeStefano was gracious enough to also answer some questions for me. Yay!
Thank you, Ms. DeStefano for joining us on the blog today!
My pleasure—I have a blast talking with book lovers. Thanks for having me over to babble a bit about Her Forgotten Betrayal ;o)
What inspired Her Forgotten Betrayal?
Oh…let's see. I was dying to write a gothic thriller in a shorter novel—up 'til now, my gothics have been for my longer sci-fi/fantasy series. I'm also fascinated with dream theory, but have experimented with it mostly from a paranormal standpoint. In HFB, I still wanted the theme and symbolism and cross-over to reality to be there, to show just how powerful our sleeping minds can be.
Then there's the setting—so much of the "haunted" mansion that Shaw Cassidy lives in are snippets of my memories of spending creepy nights in my grandmother's turn of the century farmhouse as a young girl. It was a beautiful place, but the shadows there came to life after midnight ;o)
Mostly, my favorite inspiration for HFB was telling a story about how remembering and dealing with the past is the only way for Shaw and her hero, Cole Marinos, to save the love they thought they'd lost as teenagers. I LOVE these kinds of stories, where the past is stalking my characters with just as much menace as the suspense's villain. And it's a coming home AND a second-chance-at-love, story. And the heroine has amnesia. AND the hero is a deep cover FBI agent, and as soon as he's discovered he'll never, ever, have the chance to win the girl…
Basically, I threw the kitchen sink at this one. It's all my favorite things rolled up into a thrilling love story. I so glad it found a home at Entangled's Dead Sexy Books.
Are the characters inspired by anyone you personally know?
Um… Here's the secret maybe even some writers don't already know. EVERY character is inspired by people we personally know ;o) Bits and pieces of all of our experiences filter into the worlds and people we create in our fiction.
I've written everything from family dramas to romantic suspense to sci-fi/fantasy to more psychological thrillers like Her Forgotten Betrayal. The most common thread are my characters. All are intense and a little (or a lot) scarred. All have a backstory that's affecting their world and their choices now. All have a story question to answer that's just as emotional as it is vital to the external conflict.
As you can see, I'm a very light-hearted, keep 'em laughing kind girl ;o) Actually, I am. But my characters… They've got deeper themes running through their blood than I. They have to dig deep, until they've overcome what they need to so their dreams can come true.
If you couldn't write, what would you be doing?
Teaching. I love it. I get to do a good bit of it, traveling to teach other writers at conferences and weekend retreats and half-day workshops, and doing one-on-one coaching. I see it as one of the perks of my job as a writer, and a privilege.
Helping other authors realize their goal of completing and improving their novels is so satisfying. And seeing new characters come to life through their imagination is an exciting thing to witness. If I had to choose which I enjoyed more, teaching or writing, it would be hard. For the rest of my life, I expect I'll be doing one or the other—hopefully both!
What's one crazy fact about you?
I'm a crazy cat lady, in the flesh ;o) Somehow, I've collected five of the little darlings. All different breeds. All rescues. Two of which are typically in my lap or trying to lie on my keyboard as I write my novels… Sexy, right?
Can we expect more future releases? Any information on other upcoming books that you're allowed to share if so?
I have another book under contract with Dead Sexy—another espionage-themed romance with a yummy, deep-cover FBI agent as its hero and a spunky heroine who keeps him on his toes. I'm dying (heh) to get to it!
In the mean time, I have a special release coming out from Harlequin on July 1st—A Sweetbrook Family, from their Heartwarming imprint. And the first women's fiction/contemporary romance novel in my Amazon Montlake series launches in October—Christmas on Mimosa Lane. Both are amazing family dramas I'm incredibly proud of.
You're also an acquiring editor for Entangled. Could you provide a quick writing tip to any aspiring authors out there?
Write what you love. Write it a lot. Find the kind of themes and characters that make your imagination soar, and write them into as many stories and settings and dilemmas as you can. Figure out what you're trying to say with your writing, regardless of the genre you're targeting, and make your stories resonate with the reader.
As an editor and a teacher, it's pretty easy tell when an author's not identifying with the people and journeys she's writing about—and that's typically the first sign that a novel isn't going to be sellable. You have to connect with and believe what you're writing, before you can touch a reader's emotions and take them on that ride with you.
Without thinking, answer immediately from the top of your mind:
Are you prepared for the Zombie Apocalypse?
I have a tribe of cats, remember? Aren't all zombies terrified of the little beasties!
Who is your favorite author?
Pettiness. Be real. Be intense and loving and caring and emotionally involved in whatever you do. Knock off keeping score and one-upping each other. I mean, really. What does that sort of thing accomplish anyway, except eating away at your soul?
I want to thank you again for the time and interview.
Is there anything else you'd like to add?
Just that I love to hear from readers. You can always reach me on my blog (annawrites.com/blog) where I post weekly about all kinds of things, or on Facebook (as Anna DeStefano) where I like to think I'll make you laugh almost as much as I make you think.
Note from Pixie: I just wanted to say this was perhaps one of my favorite interviews. Thanks so much, Ms. DeStefano! And about the cats--I'm a crazy cat lady myself. ;)
Thanks everyone for visiting. Quick reminder: One lucky commenter will win a free ebook of HFB! :)