Love re-reading your favorites when you can? Or how about those books that you read some time ago you just weren't that big of a fan of, but think maybe you could feel differently with a re-read now that time has passed? Maybe you've always wanted to re-read some classics you had read when you were younger/for school projects, too?
This is a year-long challenge I've decided to host for the re-readers, or any category listed above and then some. It's quite simple and easy--and in the end, fun. Hopefully you'll be reminded of old favorites (or even find new favorites among the re-reads). It will run from Jan. 1-Dec. 31. Yes, I absolutely love new reads, and there are so many that I want-- but I also love sitting down with a re-read in between new reads and when time permits. I understand I'm a few days late getting it up and running, but the holidays and New Year got crazy hectic. Haha. It's still plenty early enough to gather up some books and jump in though! We have all year!
You can create a list of however many re-reads you plan to make through the year for the challenge, ranging from 1 to whatever (100? That'd be a bit wild, but hey if it floats your boat. :P). Here's the bonus: This challenge can help you with any other reading goals you have set for yourself through the year, or most challenges you may have entered-- so why not give it a go?! It will also help your book count on Goodreads if you're apart of that challenge.
Obviously, any genre. You can even choose a particular theme of re-reads for yourself (I.e. just the classics, YA, Adult, Paranormal, Series re-reads, only books you want to give another chance--may have been rated two stars or less before, etc.)
You don't have to write reviews for the books you've re-read (unless you want to, or maybe you could if you've never wrote up a review for it before), but it would be nice to see progress if you're participating!
I've included a linky list below--we'll make a hop of this as well-- and you can put your name and blog link on the list if you're taking part in the 2012 Re-Read Challenge. If so, please create a post and let us know what books you'll be re-reading for 2012! Maybe in June or so, I'll host giveaways and mini-challenges to match the Re-Read Challenge. Check regularly for updates! :)
Also feel free to grab this button and place it on your sidebar: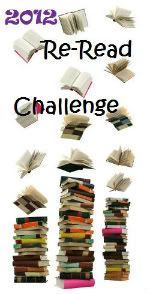 If you'd like to see the list of re-reads I'll be making for the 2012 Re-Read Challenge,
click here
.
Happy New Year and happy reading!