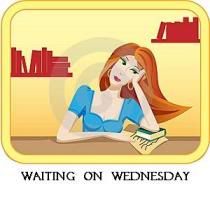 "Waiting On" Wednesday is a weekly event, hosted by Breaking the Spine, that spotlights upcoming releases that we're eagerly anticipating.
My Waiting on Wednesday this week is:
Title: Tempest
Author: Julie Cross
Genre: YA Fantasy
Release Date: January 3, 2012
See it at Goodreads
The year is 2009. Nineteen-year-old Jackson Meyer is a normal guy… he's in college, has a girlfriend… and he can travel back through time. But it's not like the movies – nothing changes in the present after his jumps, there's no space-time continuum issues or broken flux capacitors – it's just harmless fun.
That is… until the day strangers burst in on Jackson and his girlfriend, Holly, and during a struggle with Jackson, Holly is fatally shot. In his panic, Jackson jumps back two years to 2007, but this is not like his previous time jumps. Now he's stuck in 2007 and can't get back to the future.
Desperate to somehow return to 2009 to save Holly but unable to return to his rightful year, Jackson settles into 2007 and learns what he can about his abilities.
But it's not long before the people who shot Holly in 2009 come looking for Jackson in the past, and these "Enemies of Time" will stop at nothing to recruit this powerful young time-traveler. Recruit… or kill him.
Piecing together the clues about his father, the Enemies of Time, and himself, Jackson must decide how far he's willing to go to save Holly… and possibly the entire world. --Goodreads
This one sounds different. I honestly don't know whether to be excited or wary on Tempest. In some ways, it sounds a bit like the author drew some inspiration from the movie Jumper. I liked that movie alright enough, but I am a little unsure how the time-jumping will be portrayed. However, I've heard good things already so far on this- and the premise does sound unique, so I really do want to read this and see for myself. Added bonus is that the narrator is a male. We don't get a lot of this in YA, so anytime the opportunity arises for a good read with this type of point of view, I go for it. The cover is beautiful, too. I look forward to seeing how this book will be. :)
What are you waiting on?