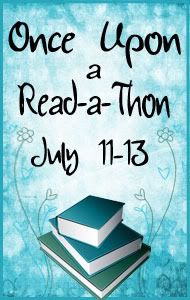 As the Read-A-Thon comes to a close, I'd like to make a final update to post everything that I've completed/read during the time.
Unfortunately, I didn't quite meet my goals- LoL- but, I did complete two books (one wasn't on my originally intended list for the Read-A-Thon, but no matter, right?!) and I still got quite a lot of reading done that will have me completing a few books by the end of the week/weekend. So not bad at all, I would say!
What I accomplished during the Read-A-Thon:
*
Completed
A Beautiful Dark
by Jocelyn Davies
*
Completed
Blue Is For Nightmares
by Laurie Faria Stolarz
Halfway through
Betrayed
by P.C. & Kristin Cast (167 pages)
Halfway through
Eve
by Anna Carey (125 pages)
100 pages into
Glimmerglass
by Jenna Black
60 pages into
The Girl of Fire and Thorns
by Rae Carson
Halfway through
Everything We Ever Wanted
by Sara Shepard (140 pages)-- This is one I had already been reading before the Read-A-Thon, though.
Halfway through
How Huge The Night
by Heather & Lydia Munn (160 pages)-- Another one that I had already been reading before the Read-A-Thon as well.
Also on a small note, I turned the Read-A-Thon into something even more fun for me as a writer. For every 100 pages I read, I wrote 1,000 words. So, it became a Read-A-Thon AND a Write-A-Thon. Was very enjoyable. ;)
It's been fun!
Hope everyone else who has participated in the Read-A-Thon has had a good time. ^^