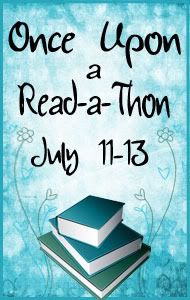 I just learned of this challenge, but found it intriguing. And well.. I like good challenges. Plus, there's some nice swag and prizes involved, so I thought I'd give it a shot. :P
I hope some of you will join me in this great challenge! It's a sure way to knock out some books on that TBR pile, too.
So, here's Read-A-Thon Update #1.
My chosen books to read for the Once Upon A Read-A-Thon Challenge:
Betrayed by P.C. & Kristin Cast
Blue Is For Nightmares by Laurie Faria Stolarz
(additional challenge)To have at least 100 pages or more read in A Game of Thrones by George R.R. Martin
My challenge is to have "Betrayed" and "Blue Is For Nightmares" both finished during the Read-A-Thon, and to have at least 100 pages read in "A Game of Thrones"... all the while, I'm also reading three other books, but on my own time. So. Who's ready for a serious reading spree?! :D
Happy reading!