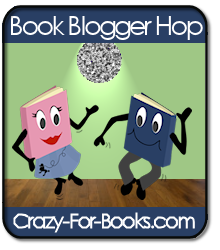 Follow the blogger hop at
Crazy-For-Books
!
"What keeps you reading beyond the first few pages of a book, and what makes you want to stop reading a book and put it back on the shelf?"
Usually what keeps me reading is the instant pull of a character (or characters). If the character isn't what's pulling me to keep reading, then it's something with the way the author has caught my attention with the first chapter. A unique experience or setting, or already setting up the plot to capture my interest right away.
What makes me stop reading and put a book back on the shelf? I try not to do that too often. I try to always finish my books, no matter how long it may take me to get through it, or how much I'm disliking it. If I'm not connecting with the MC, then it's possible that I'll put it down, though. I like to develop character connections. If I don't feel anything toward a character, then I feel flat and detached toward the story in most cases and can't finish. Or if I do finish, it's usually not that great of a read.
Q. ACK! Your favorite book/movie character (example Hermione Granger played by the Emma chick) just walked into the room! Who is it and what would be your first reaction? You get extra points if you include visual stimulation.
Ah, I'd love, love, love to meet Tom Felton (Draco Malfoy). I have been a huge fan of his ever since the first movie came out. Maybe that sounds a bit weird, seeing as how I'm going on twenty-seven years old, but hey… the guy is gorgeous and he's only 3 years younger than I am. Haha.
Let's see.. My reaction? Uh, I'd very likely make a fool of myself by stumbling over my words and blushing so red that I'd match my hair. Honestly, I'm real shy in person with anyone. I wouldn't have one of those "crazy-screaming-fan-girl" moments.. I would just be really shy and quiet. In a complete state of shock very likely.
Another book/movie character I wouldn't mind:
Jackson Rathbone. Wowzers.
I'm not much of a fan of Twilight, honestly, but this guy is just soooo adorable! I'd make a complete fool of myself with him, too. Haha!
Happy Friday!!