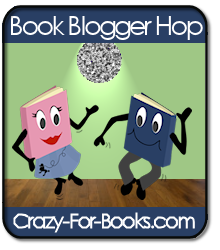 Follow the blogger hop at Crazy-For-Books
!
"When did you realize reading was your passion and a truly important part of your life?"
I realized it a young age. My father read to me a lot when I was real little, starting as a baby, and then he began teaching me how to read on my own when I was three and four years old.
When I began asking for books, and started my collection, at around the age of six, instead of toys... I believe that's when realization struck that reading and books were going to be a huge part of my life from then on. I started writing when I was around nine and ten years old, only driving my passion deeper. :)

Follow Friday is hosted by Parajunkee's View. If you want to participate, it's easy. To learn more and enter, check out: Parajunkee. Join the fun and make some new friends!
Q: In light of the Summer Solstice. Also known as Midsummer… let's talk about fairies. What is your favorite fairy tale or story that revolves around the fae?
One of my favorite fairy tales has always been The Little Mermaid (the orginal one). But I also love Alice in Wonderland as well. ;)
When it comes to stories that revolve around the fae, I have two favorites and it's hard for me to choose between the two- so don't ask me to do that! Haha! I love both the
Wicked Lovely series
by Melissa Marr and
The Iron Fey series
by Julie Kagawa.
Reading stories that revolve around the fae are some of my favorite reading material actually. I've read a bunch, and many have made it to my favorites' list. Melissa Marr, Julie Kagawa, Holly Black, Janni Lee Simner, Richelle Mead, etc. Also, I definitely can't forget an old favorite:
A Midsummer Night's Dream
by William Shakespeare.
I don't think I'll ever get tired of reading this species. There's so many different varieties... as well as ways you can shape them and mold them in writing for a unique experience. :)
Happy Friday!!