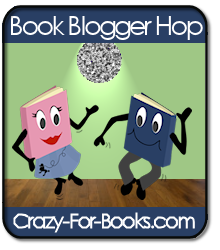 Follow the blogger hop at Crazy-For-Books! (This week, guest hosted by Lori's Reading Corner)
"Who is the one author that you are dying to meet?"

There's so many authors that I want to meet! First let me explain that I live a bit out of the way of everything. Whenever I want to go to a concert, the closest drive for me is almost an hour and a half away. Or sometimes it's almost four hours away if the event is a really major one. And as an added note just to show how out in the country and small town I live, I'm a little over an hour from a Books-A-Million, and thirty minutes from the nearest Wal-Mart. Ha! I've checked my favorite authors' schedules countless times, and they usually never travel close enough for me to go to a signing unfortunately. But one day I'm determined to make a huge roadtrip and just go. Even if it means driving six or seven hours.

Back to the subject at hand. If I can ever make it possible, and I really hope to, I'd absolutely love to meet Richelle Mead or Melissa Marr. They're two of my top favorites. :) Honestly, though, I'd want to meet any author that I admire. Meeting Stephen King would be outstanding, too. He was one of the authors that inspired me into writing and reading when I was ten and eleven years old. :)



Follow Friday is hosted by Parajunkee's View. If you want to participate, it's easy. To learn more and enter, check out: Parajunkee. Join the fun and make some new friends!
Q. The magic book fairy pops out of your cereal box and says "you and your favorite character (from a book of course) can switch places!" Who are you going to switch with?
One of my favorite characters is Rose Hathaway of The Vampire Academy series by Richelle Mead. She's strong, brave, loyal and has spunk. Not to mention, two very gorgeous guys. ;) Haha.. I liked Rose's character from the first moment I read the series. She kicks a lot of ass. But she still has her soft side, too. So, Rose would be one of the many characters out of my favorites' list that I'd likely switch with if I was given that choice. :)




Happy Friday!!