Today it stormed. The rain hit hard. The lightening flashed so brightly and nearby that I thought it was going to strike my home at one point. Storms don't bother me much, though. I rather enjoy them from time to time... the scents that accompany them are very refreshing. Spring storms, like today's, are even more welcoming because they're not generally cold.
Weather sometimes is my inspiration for writing. In some cases, depending on how bad it is exactly, I may even sit outside to read or write to enjoy that weather at the same time as well. I don't know what it is about the pull of nature along with my creative side, but they've always gone a bit hand in hand for me.

With the storm today, it was a bit of a "free my mind" day. I sat outside for a short spell, reading and then working through a few of my current writing ideas (sorry, I don't give those away! :p). It was peaceful and relaxing. Certainly a day I had been needing for quite some time.

What I am currently reading:

The Iron Witch by Karen Mahoney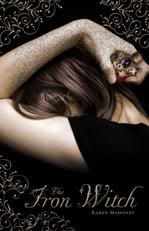 I look forward to reviewing this book soon.
I'm also reading "Crime and Punishment" by Fyodor Dostoyevsky on the side as well at the moment. But it's a slow read (I'm normally not one to read more than one book at a time unless I have to or unless I'm just feeling like going for it), so it will likely take me a bit of time to finish this one.
Books that I'm looking forward to reading later this month as well (some that I didn't get to read in March- these will go in the order of which I have time to complete for this month as well. Whichever ones I don't finish this month, will be read in May :P):
Lover Mine by J.R. Ward
Angelology by Danielle Trussoni
The Tempest by William Shakespeare (The Shakespeare Challenge - by me)
I Am The Messenger by Markus Zusak
Happy reading, everyone. Keep your mind free so you can enjoy life and not stress too much, right? :)