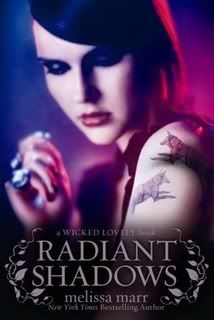 Radiant Shadows
Author: Melissa Marr
Half-human and half-faery, Ani, is driven by her hungers. Those same cravings also attract powerful enemies and uncertain allies- including Devlin, the assassin who is brother to the faeries' High Queen. Ani and Devlin are drawn together, but as they grow closer, a larger threat imperils the whole of Faerie. Will saving the faerie realm mean losing each other??
In the fourth installment of
The Wicked Lovely
series, I'm quite happy to say that as always, Melissa Marr doesn't disappoint! This installment brings more attention to the "background" characters and doesn't focus on Seth and Aislinn. Instead, the reader is taken into Ani and Devlin's developing relationship, as well as Marr's continued beautiful and alluring magical writing that will capture your heart.
I'll be honest; Ani's character didn't particularly strike me in the beginning. She struggles, and her character voice annoyed me at times with the constant complaining of "not fitting in". But you know, if you think about it, that makes a character
realistic.
As the story played on, I grew attached to her strength and determination, and fierce protection over her loved ones.
Devlin, I loved. I adored. He was mysterious. Beautiful. Marr crafted his character wonderfully, I thought.
And I always love Irial and Niall! They are so tempting... sexy... ;)
The dialogue throughout the entire novel is so smooth, rich, and easily read- yet artistically done and poetic. I don't have many complaints when it comes to Melissa Marr's
The Wicked Lovely Series
, and once again, found myself ravishing every page through this installment. I can't wait to read the next- and final installment:
Darkest Mercy
My rating: 4 out of 5 stars
Reading Challenge!!
This is another reading challenge that I've thought upon for anyone who is willing to give it a go, and I highly recommend it if you haven't read these books.
The Wicked Lovely Challenge
Read all five installments of the series in FIVE weeks.
(Wicked Lovely- #1)
(Ink Exchange- #2) (Fragile Eternity- #3) (Radiant Shadows- #4) (Darkest Mercy- #5)
Melissa Marr's upcoming book release:
Graveminder (May 17th, 2011)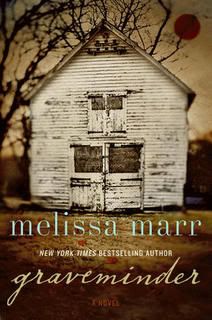 Melissa Marr delivers her first novel for adults! A story about the living, the dead, and a curse that binds them.
Rebekkah Barrow never forgot the tender attention her grandmother, Maylene, bestowed upon the dead of Claysville, the town where Bek spent her adolescence. There wasn't a funeral that Maylene didn't attend, and at each Rebekkah watched as Maylene performed the same unusual ritual: three sips from a small silver flask followed by the words "Sleep well, and stay where I put you."
Now Maylene is dead and Bek must go back to the place—and the man—she left a decade ago. But what she soon discovers is that Maylene was murdered and that there was good reason for her odd traditions. It turns out that in placid Claysville, the worlds of the living and the dead are dangerously connected. Beneath the town lies a shadowy, lawless land ruled by the enigmatic Charles, aka Mr. D—a place from which the dead will return if their graves are not properly minded. Only the Graveminder, a Barrow woman, and the current Undertaker, Byron, can set things to right once the dead begin to walk.
Okay, so you can bet I'm anxiously awaiting this book!! :)
That's all from me for now. Hope you've all had a good week! I'll be back to post soon.
The Bookaholic