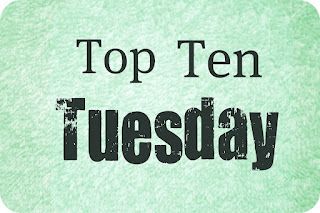 This week's topic:
Top Ten Books I Recommend The Most
My post is running a little late here. I wasn't going to do it at first, but decided to after all. Ha. So, the books I'd recommend? Well, they're probably not for everyone. But they're some of my favorites and if you haven't read any of these, you should check them out!


1. Under the Never Sky by Veronica Rossi -- I did make one friend read it. Then she beat me to the sequel, which I've yet to get. :( Now I'm bugging another friend to read it. :D

2. The Delirium Trilogy by Lauren Oliver -- Honestly, it wasn't amazing enough to scream from the rooftops about, but it was memorable with fantastic characters and solid writing. Plus there's going to be a television show. I'm excited.

3. Ashes/Shadows by Ilsa J. Bick -- I can't get enough of this trilogy. I'm dying for book three right now. Warning: it's graphic. And so far, I haven't been disappointed by any other of Bick's books. I also recommend Drowning Instinct.

4. The Fault in Our Stars by John Green -- I don't think I have anything to say other than to read it if you haven't. You're missing out on Hazel and Gus. Now I'm on a mission to read everything Green writes.

5. The Wicked Lovely Series by Melissa Marr -- I read the first book several years ago and fell in love with this world. Haven't looked back since. One of my all-time faves. This author is also on my list of "will always buy" because I adore her writing. She inspires me.

6. The Book Thief by Markus Zusak -- I think everyone should read this book. Have tissues handy.

7. Daughter of Smoke & Bone by Laini Taylor -- Amazing. Karou and Brimstone and Akiva… beautiful writing.. Astounding world. You don't want to miss this one either. Have Days of Blood & Starlight handy for when you're done. P.S. I had my friend read this one too, now she's obsessed. A bit more than I expected her to be. :P

8. Stardust by Neil Gaiman -- I'd probably say this is the best Gaiman to recommend if you haven't read anything by him before. And afterwards, watch the movie. It's just as good.

9. Ultraviolet/Quicksilver by R.J. Anderson -- I can't express how much I love these books. Really.

10. Warm Bodies by Isaac Marion -- best zombie romance/humor book I've read. Well, if there'd ever been any others like it, that is. To add, the writing is stunning. The movie was great, too. :D

Other books I'd naturally recommend (that didn't make the list): Vampire Academy, The Hunger Games, Anna and the French Kiss, Wuthering Heights/Jane Eyre, Harry Potter, The Perks of Being a Wallflower, and Interview with the Vampire. I didn't originally list them because they're commonly found there anyway.


What's your top ten?