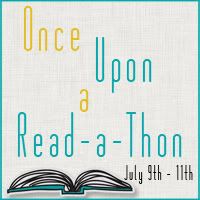 Today is the final day of the read-a-thon! I should probably be more in gear....Um... I'm afraid to say that I don't think I've quite met all the goals I wanted to, but at least I made some progress!
I made the majority of my updates through Twitter and participated in one mini-challenge (which only required me to fill out a form) on
Between The Pages
So far I've finished three books and just started two. I doubt I'll come close to finishing the two I've started today. It's no worries though, the read-a-thon has completely helped me catch up on some of my reading and gave me a bit of a boost.
Books finished:
Graceling
The Radleys
Throne of Glass
(P.S. Happily found that I really enjoyed all three of those, so that's a great bonus!)
Books started:
Darkest Mercy
Masque of Red Death
That's about it for my update! Anything else before it's officially over will probably be mentioned on my Twitter. Another great year, and I'm looking forward to the next! :)
Happy reading!