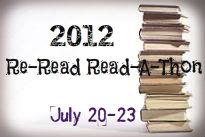 This 2012 Re-Read Read-A-Thon is hosted by me. Please feel free to use the above image during participation on your blogs and sites, but I ask that you link back to my blog. Thanks.
Many of you know (just by looking at the sidebar) that I am hosting a re-read challenge this year for anyone who wants to pick up old favorites, books that haven't been read in ages, etc. You can find out more about it in the pages' tab if you're new to the idea and want to learn more. I love rereading books. Of course, they're usually a certain value of sentiment to get that special spot. This year, I've reserved it for a couple of books that I didn't quite like so well within the last few years, but may have possibly changed my mind since then. It's happened before, and on rare occasions I do give second chances. Only if there's something in it that tells me I should.
All that aside, my year has been insane. I admit to falling a bit behind on my blogging--and I'm even a little behind on my reading. I have some serious catch up to do. As the host of this challenge, I also want to show support.
So, starting on July 20th through July 23rd, there's going to be a Re-Read Read-A-Thon (try saying that three times fast). During this read-a-thon, there's going to be live tweeting at my account (@addiction2books) of discussions of the re-reads we're picking up for that weekend, mini challenges here at the blog that you're welcome to participate in at your own blog, and a couple of giveaways. I hope you'll join in!
More info and discussion on this as the date gets closer to the read-a-thon.
Thanks! :)