Q. What superhero is your alter-ego?
I honestly have no idea. I'm a bit sick of all the superhero movies coming out at the moment really. They're going a little overboard. Haha.
I always did like Cat Woman. She was a bit of a bad girl- but really, she wasn't all bad all the time, either. Plus I love cats… I'd adopt all homeless kitties if I could. So she'd probably be fitting for my alter-ego.
Can Buffy count, too?
I just love Buffy. :)
Happy Friday!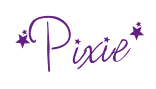 Have you entered?
Click the above picture for more details on how you can win one of two copies of The Scorpio Races by Maggie Stiefvater!