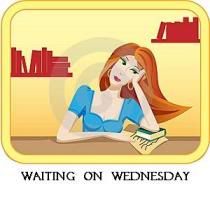 "Waiting On" Wednesday is a weekly event, hosted by Breaking the Spine, that spotlights upcoming releases that we're eagerly anticipating.
My Waiting on Wednesday this week is:
Title: The Space Between
Author: Brenna Yovanoff
Genre: YA Paranormal Fantasy
Release Date: November 15th
See it at Goodreads
Everything is made of steel, even the flowers. How can you love anything in a place like this?

Daphne is the half-demon, half-fallen angel daughter of Lucifer and Lilith. Life for her is an endless expanse of time, until her brother Obie is kidnapped - and Daphne realizes she may be partially responsible. Determined to find him, Daphne travels from her home in Pandemonium to the vast streets of Earth, where everything is colder and more terrifying. With the help of the human boy she believes was the last person to see her brother alive, Daphne glimpses into his dreams, discovering clues to Obie's whereabouts. As she delves deeper into her demonic powers, she must navigate the jealousies and alliances of the violent archangels who stand in her way. But she also discovers, unexpectedly, what it means to love and be human in a world where human is the hardest thing to be. --Goodreads
This sounds intriguing and dark. And like most people who know me pretty well by now, I have a guilty pleasure for the darker side. ;)
All joking aside, I'm not too sure yet about the whole Lucifer and Lilith thing too yet. I will have to read it and make my own assumptions then. I don't like reading material that is bogged down with a lot of "religious" reference. It's just not really my thing in most cases. I'm hoping it won't be that kind of case for this.
The Space Between sounds mesmerizing, though, nonetheless. I like the premise and I look forward to reading not only about the world and characters the author has created, but the adventure that awaits.
What are you waiting on?