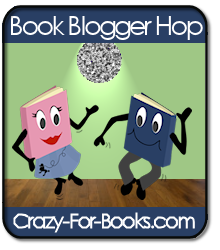 Follow the blogger hop at Crazy-For-Books!
How/Where do you get your books? Do you buy them or go to the library? Is there a certain website you use like paperbackswap?
Being from a relatively small area, my nearest large-chain bookstore (Books-A-Million) is almost an hour away sadly. So when I get the opportunity to go there, I always make sure it's to go there for a large amount of books in most cases because I don't make many trips to that store. Haha. Often, I'll just order my books online through sites like Amazon or Barnes and Noble if I get them in excellent condition used. Or I may go with Book Depository if that turns out to be the better deal. I'm a bargain hunter generally. I go for the better price wherever that may be. As of recently, I've been quite thankful (and lucky) to receive some amazingly wonderful books through giveaways and accepted requests from NetGalley as well. I also borrow/swap with friends sometimes.

Follow Friday is hosted by Parajunkee's View. If you want to participate, it's easy. To learn more and enter, check out: Parajunkee. Join the fun and make some new friends!
Q. What do I do when I are not reading?
LoL, this is a funny worded question. It made me giggle a bit.
Anyways, when I'm not reading, I'm writing mostly. A few months ago, I completed my second novel, have been working through edits and revisions, and I have two other novels in progress as well. One I just started will be the sequel to the novel I just completed.
I also blog, of course. And then I have my family life. I love hanging out with my best friend when I can…playing around on the internet (I have a Twitter addiction, I think) and I love going to concerts or getting an occasional tattoo.
But mostly, I'm a homebody and just enjoy my reading, writing, and blogging. ;)
Happy Friday!!