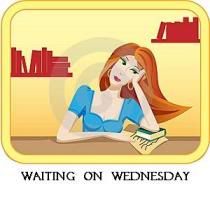 "Waiting On" Wednesday is a weekly event, hosted by Breaking the Spine, that spotlights upcoming releases that we're eagerly anticipating.
Title:
The Faerie Ring

Author: Kiki Hamilton

Release Date: September 27th, 2011
Debut novelist Kiki Hamilton takes readers from the gritty slums and glittering ballrooms of Victorian London to the beguiling but menacing Otherworld of the Fey in this spellbinding tale of romance, suspense, and danger.



The year is 1871, and Tiki has been making a home for herself and her family of orphans in a deserted hideaway adjoining Charing Cross Station in central London. Their only means of survival is by picking pockets. One December night, Tiki steals a ring, and sets off a chain of events that could lead to all-out war with the Fey. For the ring belongs to Queen Victoria, and it binds the rulers of England and the realm of Faerie to peace. With the ring missing, a rebel group of faeries hopes to break the treaty with dark magic and blood—Tiki's blood.



Unbeknownst to Tiki, she is being watched—and protected—by Rieker, a fellow thief who suspects she is involved in the disappearance of the ring. Rieker has secrets of his own, and Tiki is not all that she appears to be. Her very existence haunts Prince Leopold, the Queen's son, who is driven to know more about the mysterious mark that encircles her wrist.



Prince, pauper, and thief—all must work together to secure the treaty…
First of all, I admittedly have an obsession with a lot of faerie-type stories. Maybe it's my Irish roots. Or my nickname that has been with me since my middle-school years. Not sure. I just know that I've always been drawn to stories that involve the fey- and this one has really captured my interest because it also includes a bit of historical fiction as well! How lovely!


Victorian London mixing with a bit of faerie magic and the supernatural. Most certainly sounds like it will be interesting. :) I look forward to this!
What is your Waiting on Wednesday?

~The Bookaholic