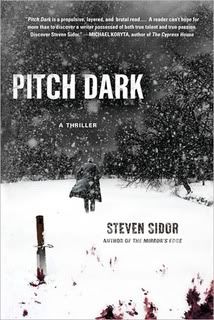 Title: Pitch Dark

Author: Steven Sidor

Genre: Thriller/Suspense
It's Christmas Eve, and Vera Coffey is on the run. She doesn't know the men who are after her. She has never seen them before, but she has seen the horrors they visit on the people who don't give them what they want, Vera has something they want. The Larkins have known violence like that ever since they were trapped in a spree shooting. They've been coping with the trauma for nearly twenty years when Vera collapses at their motel. It's a cold barren place cut off from the rest of the world. It's also where they'll have to make their last stand against an evil that has followed them further than any of them could've imagined.


First off, thank you GoodReads' First Reads/Giveaways for the opportunity to read this book!

I received this book for free from the publisher through the GoodReads' First Reads giveaway. This doesn't change or influence my opinion of the novel in anyway. :)


Pitch Dark was a thrilling read. The descriptions were vivid and the entire story was entertaining, fast-paced and suspenseful. I read it fast, in only a few sittings, wondering what was around the corner after each chapter finished.

My only quirks with the novel at times were that I couldn't quite connect with any of the characters. And the plot, in the beginning, was confusing, until I reached about the halfway point and finally learned more about The Pitch and The Stone- and exactly what was going on. In fact, to be honest, when I finished, I still felt some questions unanswered. Maybe it was a bit too fast-paced at times. I felt it lacked information for the reader sometimes due to this.


I still give it a solid 3.5 star rating because while I had some "quirks" and nitpicks here and there, once I got into the story, I really enjoyed the thrilling suspense it dished out.


~The Bookaholic