This is a treat. It's going to be a double-book review post as I've finished two books over the weekend and feel I owe them both a review. They're each diverse in their own way.
Title: A Chalice of Wind

Author: Cate Tiernan

Genre: Fantasy, YA, Romance
Seventeen-year-old Thais Allard loses her widowed father to a tragic car accident and is forced to go live with a stranger that she just meets for the first time after his passing. It's a big move from Conneticut down to New Orleans. New Orleans greets Thais with many secrets and mysteries, but none as big as the one she discovers when attending her first day of school. She comes face to face with her identical twin, Clio- a sister she didn't know she had. Thais soon learns also that she and Clio come from a family of witches, and the she possesses astonishing powers. The twins must learn to combine their powers in order to complete a rite that will transform their lives and the coven forever.

I don't really feel the need to go into an in-depth review for this book. I read it within twenty-four hours. Not because it was so good that I couldn't put it down, but because it was an easy, fluffy read, and short. There were a lot of instances that it was quite cheesy actually- most particularly with the romance and some of the "action". I'd read Cate Tiernan's other work (the "Sweeps'" series) and I'd have to say that it was better than this, although I'm not a real huge fan overall. I do like the magic and mystery that is put into the plotlines.

As an adult, I guess I would just like it better if I were just a bit younger. You can tell it's for a younger audience. I read a lot of YA, but even most of the YA I read still appeals to an audience in my age range and older as well. This just didn't do it for me so much here. I'll still continue on to the next book sooner or later, however, because I have them all (bought them all at once at a discounted price) and they're short anyway. The storyline is intriguing, too, I guess. This is one series that I do think, in my opinion, would probably would have been more appealing without the romance for a change, though. I hate when characters "fall in love" after one brief encounter. It's very unrealistic.

I gave this book 2 stars.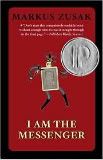 Title: I Am The Messenger

Author: Markus Zusak

Genre: Literary Fiction, YA
Ed Kennedy—underage cabdriver, pathetic cardplayer, and useless at romance. He lives in a shack with his coffee-addicted dog, the Doorman, and he's hopelessly in love with his best friend, Audrey. His life is one of peaceful routine and incompetence, until he inadvertently stops a bank robbery. That's when the first Ace arrives. That's when Ed becomes the messenger...
Chosen to care, he makes his way through town helping and hurting (when necessary), until only one question remains: Who's behind Ed's mission?
"I Am The Messenger".

Where do I even begin with my review?

I guess I should first say that I have, of course, read "The Book Thief". It's one of my all-time favorites, actually. But you see, here's where I need to give a bit of information about my reading habits from time to time. Every once in a while, I find a book (or series) that is so good, I become very timid to even attempt to read any of their other other work. Perhaps it's mostly due to fear that their other work may not be "up to par" with the greatness of the book or series that I've already read, and I don't want to affect my thoughts of them by reading something bad. So yes, I will get extremely hesitant at times. That's how I've been with Markus Zusak since reading "The Book Thief". Hesitant. I bought "I Am The Messenger" almost a year and a half ago, and it has sat on my bookshelf waiting to be read. Just waiting patiently for the day when I finally make the move and break down my barrier to give Zusak a shot to see if his other work is just as good as "The Book Thief".

It wasn't just good. It was brilliant.

Zusak has officially been listed as one of my favorite authors. Anything else he releases, I will be grabbing up for sure now.

"It's not the place, it's the person." I really liked that quote within the book. Actually, to be quite honest, I liked many quotes within it. It was very quotable throughout. But it was that one that probably stuck in my mind that most. This wasn't just a story for entertainment. It really was a message. A powerful, intelligent, mind-bending read. And the characterization that was developed for each individual was so immaculately done... I loved it. The Doorman (name of dog) even had his own personality traits and I commend Zusak for not leaving the tiniest details out. Truly excellent.

The only thing that struck me as odd about this novel was the fact that it was classified "YA". True, a lot of YA books nowadays get a bit "over-the-top" or violent, etc. But even at times while reading this, I still felt like I was reading more of an adult literary fiction piece, rather than a YA novel, due to language and graphic content.

I gave this novel 4.5 stars. I really enjoyed reading this and would highly recommend it. :)

Book I'm currently reading now:

Bones of Faerie by Janni Lee Simner

Books I'm waiting for in the mail:
My Booky Wooky- Russell Brand

Under The Dome- Stephen King

Anansi Boys- Neil Gaiman

Moloka'i- Alan Brennert

The Secret Hour- Scott Westerfeld

The Road- Cormac McCarthy